The TOUCH (Therapy of Unique Canine Helpers) Program certifies volunteers and their own dogs to visit facilities in which the patients or residents can benefit from a visit with a well-trained canine. Experience has also shown that family and facility staff also benefit from the TOUCH visits in the facility.
The TOUCH Program is not breed specific. The dogs are accepted based on their temperament and their willingness to be touched and interact with people. Currently, the TOUCH Program has dogs ranging from teacup breeds, to Great Danes, Bull Mastiffs, and all breeds, mixes, and sizes in between.
To qualify for the TOUCH Program, all dogs must complete and pass a temperament evaluation. To be eligible for an evaluation, the following requirements must be met:
Dog must be between 2 and 10 years of age.
Handlers must be 18 years of age or older.
Dogs must have completed an adult basic obedience class with their handler.
Handlers must have had the dog in their possession for at least one year.
Dog may not have received any type of protection- or aggression-based training.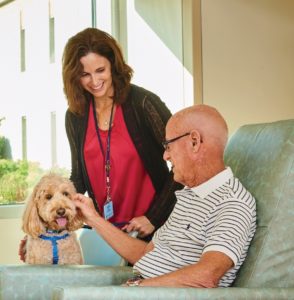 Once the evaluation is complete, the volunteer can choose which class segment(s) to take in order to become certified to visit adults, children, or both.
To get involved with this exciting program, please fill out the application and return it with proof of obedience and current shot record. To find the application, download the TOUCH Packet.